Day 2 and Geoffrey already looks pretty comfortable nestled inside the Fresh Living headquarters. We were a little concerned about finding him a uniform, but a little innovation and determination goes a long way. We also wanted to make sure he was comfortable and felt like a part of the Fresh Living family so Abbey, our Director of Style, wasted no time in staging this cozy bachelor pad. A true testament that, no matter how big or small, we are prepared for any job!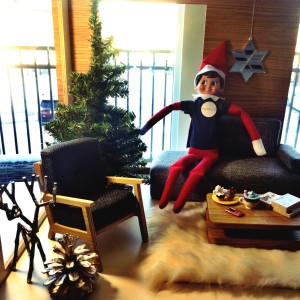 Not just a cleaning company, Team Fresh can come to the rescue so decorating and styling your home doesn't have to be overwhelming! Maybe you would like to be hands-on yet need someone to help execute your vision? Or, do you prefer to hire a professional to take care of everything from shopping to decorating your home?  Fresh Living can help transform your space using your existing belongings, combined (if necessary) with new paint colors, lighting, window treatments, furniture, artwork and/or accessories. Whether your budget is big or small, we will help your decorating wishes become reality.
In the end your space will have your own personal stamp, your colour palette, and a unique style that reflects your personality and lifestyle. We know you'll love it!